Access Controls¶
Access controls can be added to both the listeners and target groups of your load balancer. These allow you more fine-grained over traffic routing and who can access your web applications.
Certain actions and conditions are only available for listeners or target groups not both (for instance the use target group action can only be used with listeners). Only the actions and conditions you can use for that type of access control will be shown within MyUKFast.
To get started adding your access control go to either the listener or target group you want to add an access control to within the load balancers section of MyUKFast. Then click the Access Controls tab at the top of the screen.

Click Create Access Control, you will then be presented with the access control form. You can give the access control a name to help you remember what it's for later on.
The conditions for an access control are optional, if none are provided the access control will always run. You can use this, for example, if you want to always add a header to any request which passes through the load balancer.
The actions are what will happen if all the conditions are met, you must have at least one action for each access control.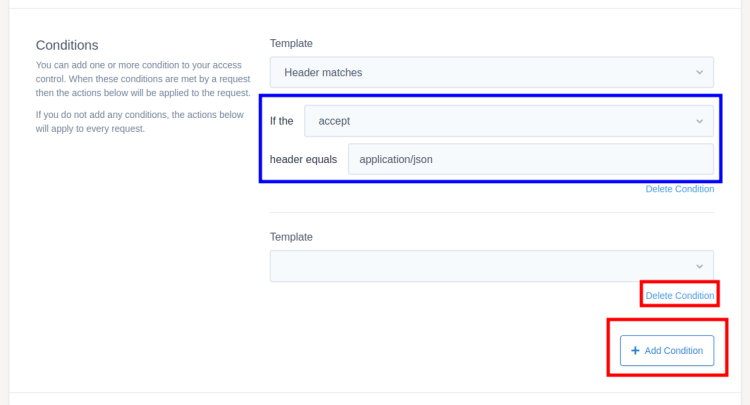 Some templates require additional information. If this is the case, additional inputs will be added once you've selected that template. For instance, the header matches condition will ask for which header to check and what value to check for as shown in the blue box above.
You can add multiple conditions and actions to an access control by clicking the Add Condition and Add Action buttons respectively. If you no longer need a specific action or condition you can press Delete Condition and Delete Action to remove them from the access control. These are highlighted in the red box below.