Microsoft is taking things to the next level with their new AI-powered assistant, Dynamics 365 Copilot, within CRM applications.
With next-gen AI capabilities and natural language processing, Copilot can help you turn your words into powerful productivity. You can create emails and content faster and build apps, segments, and flows by describing what you need in simple language.
And it's not just limited to CRM applications. Copilot features are embedded across applications, including Word, PowerPoint, and Teams. So, you can use AI to enhance your productivity across multiple applications.
Think of Copilot as ChatGPT but within the context of your organisation. It can access your internal knowledge resources, emails and CRM data to provide contextual, tailored responses.
This is built on Microsoft's comprehensive approach to security, compliance, privacy, and responsible AI. As a result, you can be sure your data is safe and that AI is transparent about where it gets the information from.
With Copilot, you can minimise typing emails from scratch or taking meeting notes. It lightens your workload by improving collaboration and automating tasks, freeing up more time to focus on what matters.
So, let's look at what's new within Copilot across Dynamics 365 applications and see how it can transform the way you work!
1) Copilot in Viva Sales.
Viva Sales enables sellers to automatically capture data in Dynamics from Outlook and Teams, reducing manual data entry and switching between applications.
Let's take a look at some of the ways Copilot in Viva Sales can make sellers' work lives easier:
With Copilot, sellers can create email responses in seconds using intelligent automation. This includes replying to an enquiry, writing a proposal, or offering a discount. You can review the email and make appropriate modifications before sending it. The feature is now generally available for users.
Copilot in Viva Sales can also fetch data from Dynamics to answer queries and embed this detail within the email.
For example, suppose a customer asks you the total cost for a particular product and asks if they can get additional discounts. You can query that in Outlook, and Copilot will scan Dynamics 365 data and populate the answer in the email.
You can hover over the data points to see where the data is coming from, providing transparency and allowing sellers to validate the information.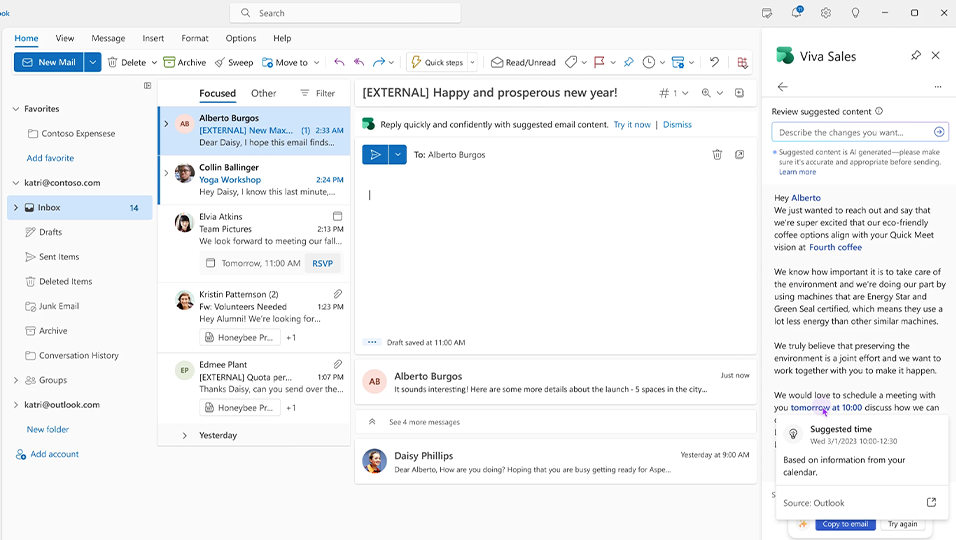 Similarly, when you receive important messages in Outlook, Copilot automatically suggests a CRM update and marks the opportunity as won.
This is just one example of how Copilot works in Viva Sales to increase productivity by completing actions without jumping between user interfaces.
Copilot will also be able to help you create an email with proposed meeting times with customers based on their calendar availability. This makes it quicker to schedule meetings by finding a time that works for everyone.
Access Copilot during Teams meetings
During Teams meetings, Copilot scans CRM data for the latest information, including account overview, recent interactions and their focus areas. These details equip you to have productive conversations within the Teams interface.
Ask the AI assistant to recap what happened so far and what questions are unresolved. You'll receive real-time answers, which is especially useful if you join a call late.
If the customer asks a commercial question, prompt Copilot to scan your sales materials and see an immediate response. You can stay focused on the meeting because you don't have to switch applications.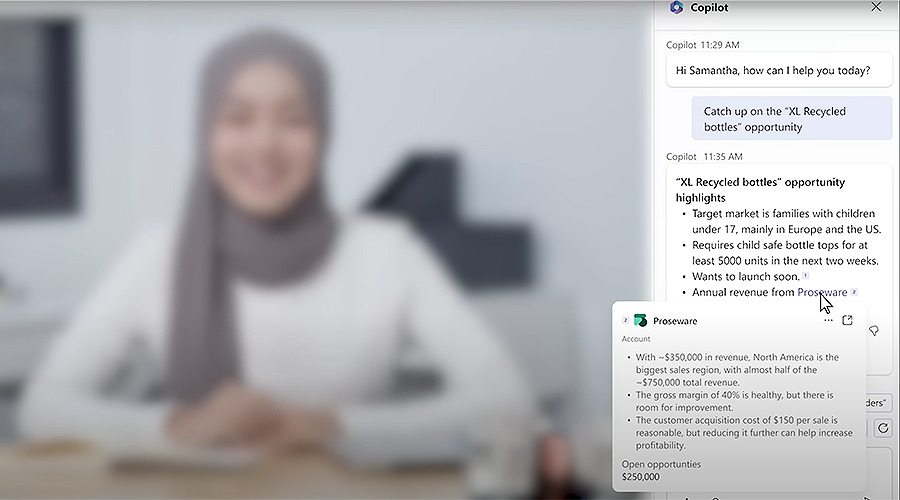 That's not all. Another Copilot preview feature allows teams to follow up with prospects using AI-generated meeting summaries. Conversational intelligence within Viva Sales automatically provides a transcript for a Teams meeting. At the end of a call, this includes a conversation summary with highlights, action items and KPIs.
Copilot retrieves this information and drafts an email you can send to prospects. This means you can avoid spending hours recapping a conversation and switching between systems to access the necessary data.
With some help from AI, sellers can save time by reducing energy-zapping tasks to better focus on building relationships and closing deals.
2) Copilot in Customer Service.
Service agents often spend a lot of time reviewing cases and knowledge articles or consulting with subject matter experts. Now, Copilot can do this heavy lifting to find the resources that help answer questions faster and handle cases more efficiently.
Agents can access Copilot in the Dynamics Customer Service Hub to quickly assess the situation on a case, discover resolution steps and craft responses. This understands the context based on the current conversation, historical interactions, internal data sources, knowledge articles and previously resolved cases.
It works like an internal chatbot you can converse with in natural language. So, you can ask questions like "Can you give me a list of steps to troubleshoot the Dynamics storage space issue?".
You can then verify the answers and make any necessary changes before sending the response to the customer.
This can be particularly useful for agents starting in an organisation to make an impact quickly. Even seasoned service reps can use this tool to handle more queries in less time, improving the overall customer experience.
Copilot is also accessible within Outlook to draft suggested email responses to customer emails. This is similar to how Copilot works in Viva Sales.
Just choose the type of response you want to send a customer, such as "suggest a call", "request more information", or suggest your type. Your Copilot will then create a draft response which you can review, revise and quickly send.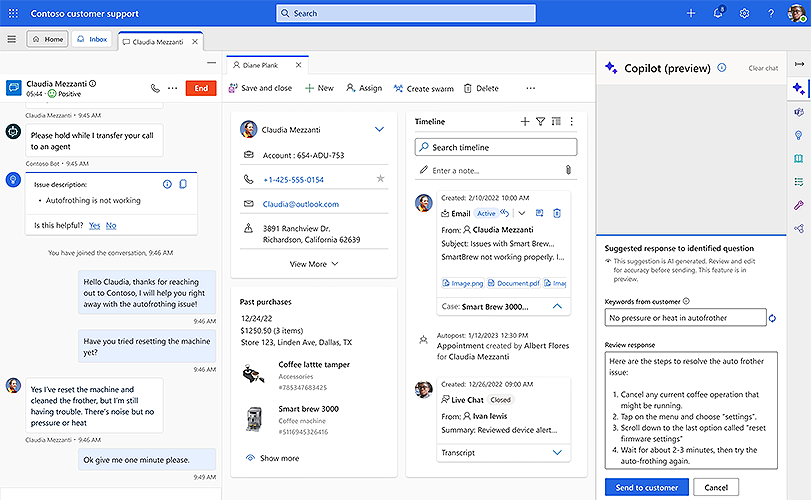 3) Copilot in Power Apps.
You may be familiar with the feature that helps you build Power Automate flows by writing natural language queries.
Copilot in Power Apps works similarly, creating apps from natural language queries without writing code. This is a huge time saver for anyone starting with Power Apps. Even experts can use this to speed up their process instead of creating an app from scratch.
So, let's say you want to create an app that tracks employee expense reports. All you have to do is write, "create an application to enable employees to submit their time and expense reports".
Copilot will do what's required to create the app in the background and generate a sample table structure of how the data will appear.
Review that, and in your Copilot interface, ask for any changes you want and fine-tune the results. Let's say, "add employee numbers as a separate column", and the structure will be updated accordingly.
Once the app is created, conversational capabilities are built into the app, so you can ask questions about the underlying data in natural language. For example, search "How many expense reports were submitted last month?" without filtering data or writing queries.
Copilot can also be added to an existing app to filter, analyse and gain insights from your data using conversational capabilities.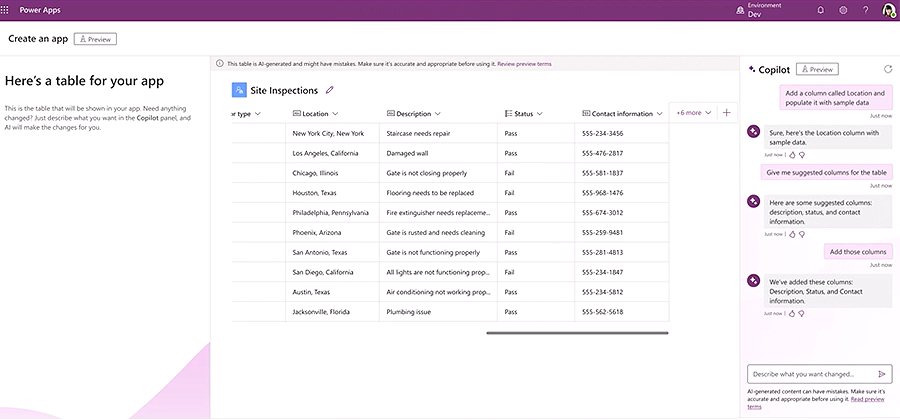 4) Copilot in Marketing.
With Copilot in Dynamics 365 Marketing, you can describe the key messaging points for an email, and AI will generate up to 20 email content suggestions that you can develop.
This could benefit marketers who sometimes need help getting started. With an AI-generated outline, you can create a rough draft in no time and use this as a basis for further tweaking.
Your Copilot will generate content consistent with your previous marketing messages regarding brand style, tone, and structure.
You can also quickly create real-time marketing segments using natural language queries to avoid navigating multiple data structures.
Instead of manually selecting specific tables, type in a query like "contacts with email addresses that allow bulk emails based in London", and the Query Assist panel will suggest a data structure that can be refined to include more details if needed.
This isn't a complete solution for creating complex segments but a great starting point.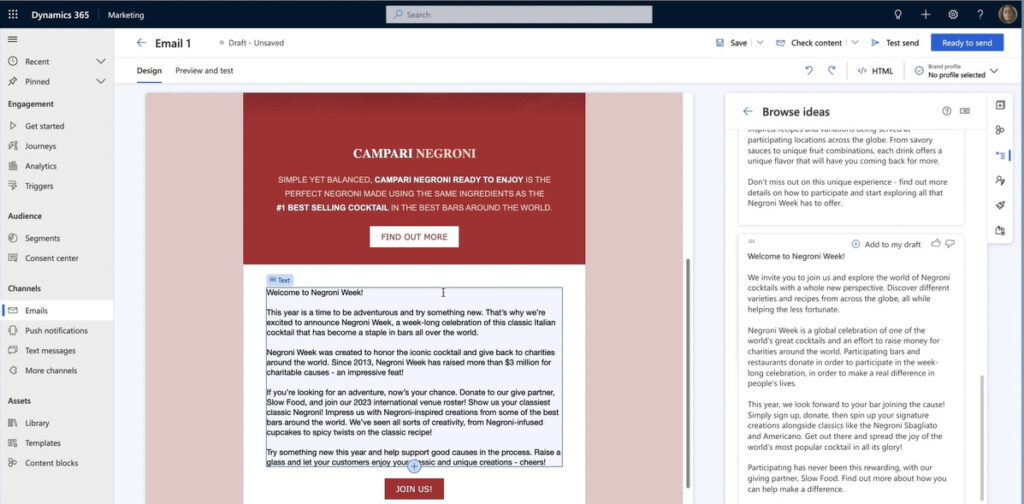 What's Next?
The possibilities of AI in CRM are endless, and Dynamics 365 Copilot is just the start of an exciting journey.
Copilot isn't here to replace the expertise of service agents or app developers but to augment it. By taking care of mundane activities, Copilot allows everyone to be more productive by focusing on critical tasks.
We're eager to see how Copilot evolves and what other conversational capabilities will be added in the future. Stay tuned for our updates on Dynamics 365 Copilot, and don't hesitate to contact us if you have any questions about these new features.