Chris Huntingford, one of our Low Code practice leads, talks about their experience at the Microsoft sustainability hackathon in this 8-minute read.
Recently, ANS Group descended physically and virtually on the Microsoft Reactor in London for a hackathon focused on sustainability. Thank you to the Microsoft Team for having us and for the advice and collaboration; we always enjoy working with all of you on these solutions.
Our Quest: Work together to build a set of solutions that works with the Microsoft Cloud for Sustainability and enables organisations to track and manage areas of their Environment, Social & Governance goals optimally. I realise that sometimes organisations send people to hackathons as a way for them to explore new areas of the Microsoft cloud product stack or to test things. We had this in mind, but we also had other ambitious goals.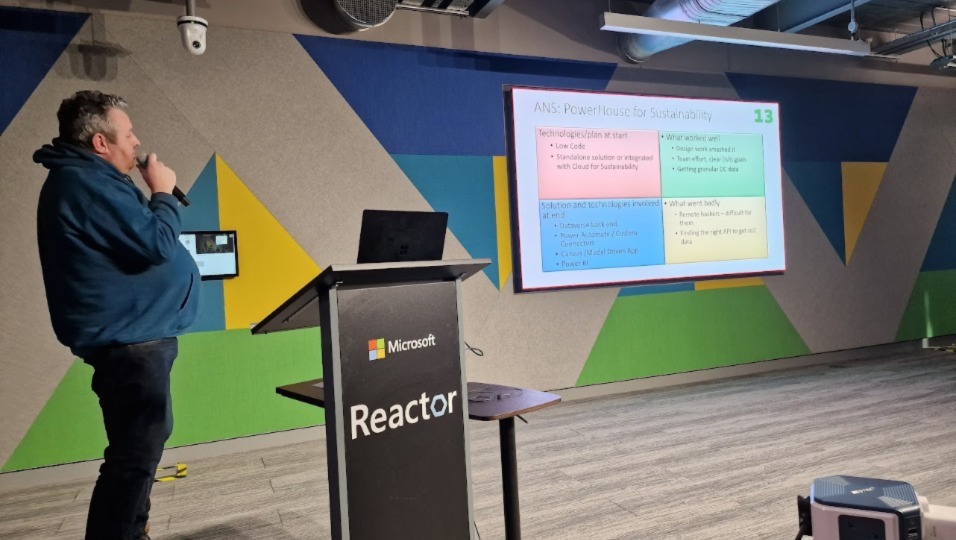 Why did we attend the Hackathon? 
We really wanted to build something reusable; we believe that in the Low Code arena, everything we make needs to be reusable. This saves people the time of having to rebuild repeatedly and ultimately saves money.
ANS Group is growing, and several teams are starting to collaborate more, so our key goal was to integrate and work together as a team! We believe that in low code, there are always 3 core areas that need to consolidate and work side by side…by side. These are Data, Security and Business Applications. We had representation from each area.
ANS Group saw this as a fantastic opportunity to build our technical community program together. Community is essential to us, and we recognise the value, so investing time and money into an initiative that helps build relationships between our technical team and help cross-skill is vital. Low Code, particularly the Microsoft Low Code Platform (Power Platform), combines multiple technologies across the MS cloud stack. We have recognised this and want to enable our people to embrace a wider technology set.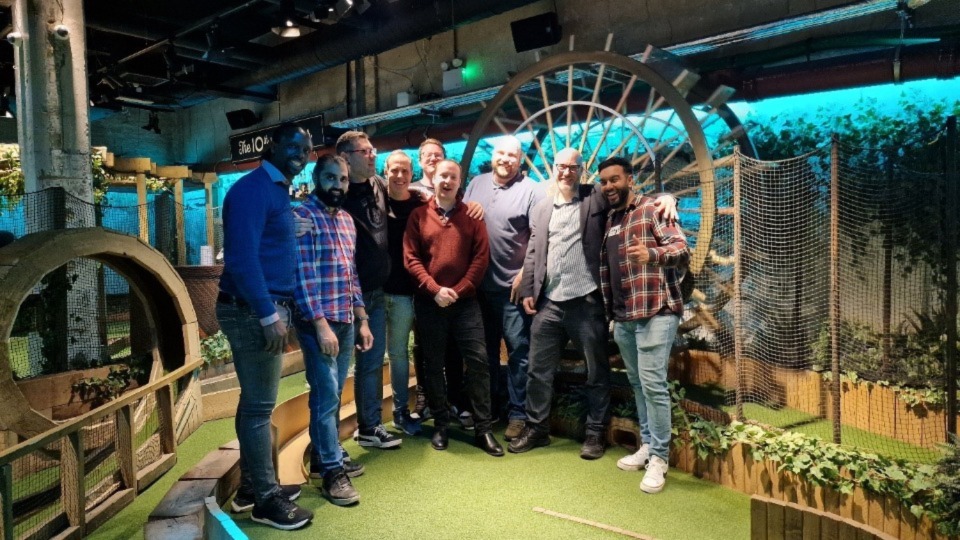 The Experience
Microsoft know how to throw a great hack! If you have never been to the Microsoft Reactor in London, GO! There are loads of community events that are hosted there. The Hackathon was over 3 days, which is sometimes a short amount of time to make something…. except our focus was to fuse Low Code, Data and Security. Power Platform allows us to build solutions rapidly, so we did that.
We had a small amount of time to prep and plan our solution before the event, which was great because we had a reasonably large hack team of 10+ people. We managed to fill 2 full tables in the Hack venue, and our team got going relatively fast. We broke the team into groups, each focusing on a specific solution area. This was a great way to get folks working together from each area of our business.
A key factor of our collaboration was that we had regular standup meetings, and our goal for the hackathon became increasingly refined as we progressed. It was amazing to see how each person was welding their part of the solution into the central core, which snapped into Microsoft's Cloud for sustainability.
Needless to say, the team bonding experience progressed outside of the hackathon and into an evening of darts and mini golf.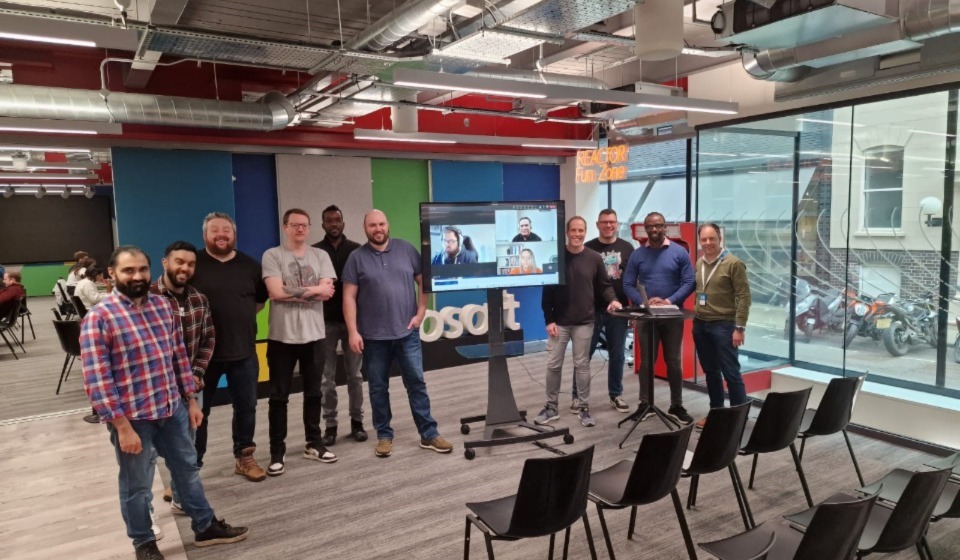 The Solution
The technical solution was a fusion of various tools available within the Microsoft cloud stack. It's important for us to note that we did not just want to look at one set of tools; we wanted to create the best technical solution leveraging the full box of digital bricks that Microsoft offers.
Ultimately, many areas within sustainability are heavily focused on data and how this data is reported. We knew this would be challenging to replicate, so we leveraged data generated from our data centres. This was then fused into a full facilities hierarchy to understand which buildings and assets generated the most emissions. To ensure that we maximised the use of the Cloud for Sustainability, we then developed a framework where other solutions could be bolted onto the central solution. We focused on various areas, such as waste management and incident reporting, which grew into a much larger set of requirements.
Further, the Digital Twin functionality was generated to replicate the asset hierarchy, enabling us to generate smart reporting and a complete understanding of an organisation's total asset and building landscape. We are excited to have created an excellent solution prototype for the next step. We want to help organisations understand the physical landscape so that emissions are understood in more detail and the environment can be governed.
Ultimately, it was a great event to have participated in, and we were pleased with what we had achieved as a team. It was amazing to work together and see enthusiastic people in action, in their element and creating valuable things using the digital bricks Microsoft provide for us.
Some key points we noted from all the presentations were:
The Microsoft Partner landscape has some REALLY talented people, and we at ANS Group are privileged to be a part of this amazing ecosystem.
Data and Low Code appeared in more than 3 quarter of the solutions, working hand in hand.
Microsoft focuses on providing value as fast as possible to its ecosystem.