3 reasons you're not seeing the benefits of migrating to cloud
Our experts share why you might not be seeing the benefits of cloud (yet)
Your IT team has been quite apprehensive about migrating to cloud, so you decide to test the waters and move a couple of small workloads over. You sit back and wait to see the benefits of cloud appear. But wait, nothing's changed! But why?
If this sounds like you, you're not alone. In fact, according to an Accenture research report, 65% of large enterprises aren't realising the full benefits of their cloud migration strategies. Of the 200 IT leaders surveyed, only 35% felt their cloud environment was a business-enabler and only 34% saw an increase in speed and improved service levels, so where on earth is it all going wrong?
When this topic has been addressed in the past, we often see factors like security and compliance risk, complexity of business and organisational change and skill shortages bearing the brunt of the blame, but actually, this might not be the case.
Here are our top 3 reasons you're (probably) not yet seeing the benefits of migrating to cloud:
1. You're not consuming enough services
Believe it or not, this is a genuine reason. Research has shown that when it comes to cloud adoption, the more you consume in services, the greater value you will see in return because as you expand your use of cloud applications and footprint across different functions, divisions and geographies, you will increase the areas to which the technology can bring value.
The Accenture report also revealed that satisfaction levels based on the degree of cloud adoption, showed that those in the early stages of cloud adoption or those only moderately adopting cloud had lower satisfaction levels than those who have heavily adopted. Only 33% early stage adopters said they were 'very satisfied' whereas 54% of heavy adopters considered themselves 'very satisfied'.
The chart to the right compares how low, moderate and high consumers of cloud services rate their satisfaction levels based on cost, speed and business enablement.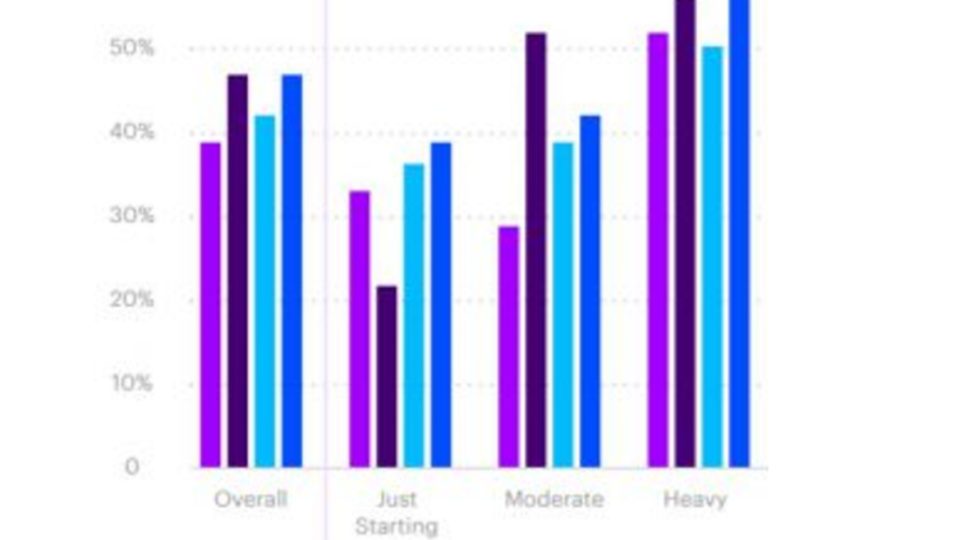 2. You don't have visibility of your environment
It's important to have a real time status update of your environment, especially during peak times for your business. You need a single, transparent view of all your changes and incidents to keep on top of your platform and stay informed. This will not only shorten your time to resolution for incidents and changes, it will also allow you to plan ahead with accurate forecasting for both technical and commercial initiatives.
3. Your security isn't up to scratch
As your cloud environment begins to scale, finding the balance between agility and control can be tricky. You may find as your business grows, your security and compliance needs increase, especially if you take on complex customer contracts. Whether they need around the clock support or assurance your own security is backed by accreditations, most organisations prefer to rely on the expertise of a trusted cloud partner who can take care of security concerns.
How to realise the benefits of cloud
Like most new technologies, capturing the intended benefits of cloud takes time; there is a learning curve influenced by many variables and barriers. Taking your cloud strategy to the next level isn't something you can do overnight ­­­­— you need to approach it strategically with a trusted partner to access deep expertise, show measurable business value with digital transformation in your sight.
If you've leveraged public cloud, but you're yet to see the intended benefits, we can help.
Speak to one of our experts to find out how you can optimise your cloud environment. Whether you need to improve consumption but don't know what you should migrate first, or if you're looking to reduce platform spend, validate your security or increase operational efficiency, our team is on hand to help you get the most out of your cloud with our managed cloud services.
Find out more about how we can help you take your cloud to the next level with our managed cloud services.
Alternatively, watch this video to discover our cloud managed service in less than 2 minutes.