We all know selling is not easy, and it has never been. But what makes it even more challenging now is a shift in customer purchasing behaviour.
Modern buyers are more informed; they expect a more personalised experience and won't settle for a one-size-fits-all approach. On the one hand, salespeople need to understand their customers better, but they're under pressure to improve productivity and close deals faster.
To manage both, they should have the right tool that can adapt to these emerging trends.
So, how does Dynamics 365 Sales help sellers respond to buyer signals, boost productivity and achieve their targets?
Let's find out by first looking at 5 frequent challenges sellers face today.
Significant disruptions in B2B selling: With more companies now operating a remote working model, sellers had to learn how to connect with customers through digital channels. Plus, with rising global inflation, buyers are more careful how and where they allocate their budget, so sellers need to find new ways to make their offerings more competitive.
Changing buyer behaviour: Customers no longer buy in a linear way. They are now more digital than ever, comparing products online across multiple channels and making decisions at their own pace. This makes it hard for sellers to understand where and how buyers make purchase decisions.
Repetitive manual data entry is a common productivity blocker: According to a study by Microsoft and Futurum Research, 56% of salespeople said that manually entering data interferes with customer time. A whopping 80% say that their lives would be much easier if CRM automatically captured data during calls. When repetitive manual data entry takes so much valuable sales time, it's no wonder that many sellers see CRM software as a productivity killer.
Poor quality data and insights: When CRM data entry becomes manual and time-consuming, sellers fail to update data consistently. While juggling customer conversations and preparing quotes, they inevitably miss updating their leads and opportunities, making it harder to draw pipeline insights. Sales managers, too, waste time compiling forecasts that should be available in real-time or making decisions based on inaccurate or incomplete data.
Ineffective collaboration: If sales teams operate in siloes, they miss out on insights to engage prospects and grow relationships effectively. Now more than ever, sellers must collaborate effectively across teams, including service, finance and marketing. To achieve that, data and processes must be connected.
How to address these challenges with Dynamics 
1) Help sellers respond to buying signals
With the changing buying model, understanding purchasing behaviour is now more important than ever. Simply relying on guesswork about the needs and wants of your audience won't cut it.
To understand where prospects are in their buying journey, you must be aware of what they read, what they search for, how they find you, how long they engage with the content, and where they are going next. In short, this will give you a picture of who your customer is and what motivates them to buy.
Gone are the days when this was just a marketing task. Now, this information allows sales teams to anticipate requirements, send contextual messages based on customer actions and become more proactive. The more you get to know your audience, the more you can personalise your communications with them, building trust and loyalty.
For instance, by accessing order information and recent interactions, account managers can identify opportunities to cross-sell and upsell to existing customers, leading to increased sales. At the same time, customers will feel valued as they receive individual attention. It's a win-win for both.
But what if this information is scattered across different systems? This is where Dynamics 365 helps you by bringing together sales, marketing and service interactions across channels in one place for each contact record, providing a 360-degree view of your audience.
Another advantage of understanding where customers are in their buying journey is that you can focus your efforts on leads that are more likely to convert.
Rather than wasting sales efforts on leads who aren't ready to buy, use Dynamics 365 to create an automated lead scoring model. It'll help you identify sales-ready leads based on the buyer's behaviour, demographic, firmographic details or other actions.
When critical buyer signals occur, Dynamics 365 triggers a sales activity, such as tasks, phone calls, or sales sequences, within a real-time automated journey to get priority attention from salespeople.
This way, sellers can approach leads at the right time instead of bombarding them with speculative messages before they're ready.
2) Focus sales efforts on high-value activities
To increase productivity, sellers need to spend less time updating data in CRM to free up more capacity for customer conversations and look for opportunities to automate activities that don't add value.
CRM has been seen purely as a system of record to be updated, but it's evolving with AI-powered features that automate repetitive tasks. For instance, you may be losing time manually sending follow-up emails and scheduling reminders, but this can all be automated in Dynamics 365 Sales using its sequence builder.
Thanks to sales sequences, you can make better use of your time by automatically identifying the next best action and prioritising activities, such as sending an email, completing a task, or scheduling a phone call. This handles recurring sales scenarios to provide clarity on which customers to reach out to next.
As we stated earlier, repetitive manual data entry is a productivity blocker. Microsoft is addressing this problem through Sales Copilot (previously Viva Sales). This app captures data automatically into Dynamics 365 directly from Outlook, Teams and Office 365.
A new Sales Copilot feature enables sellers to communicate effectively and save time crafting email replies by using the GPT and OpenAI service.
Choose the type of response you want to send a prospect, such as a reply to an inquiry, make a proposal or suggest your own type. Copilot then automatically generates the email with personalised text and CRM data such as product descriptions, price and account details.
Not just that, Sales Copilot uses conversational intelligence to automatically summarise a Teams meeting, identify action items, track meeting KPIs and add this to a Dynamics 365 Sales record.
All this is intended to increase sellers' productivity and help close deals faster.
3) Gain data-driven insights to meet sales targets
Once you automatically update data in CRM, the next step is to use that data to derive meaningful insights. What does your sales pipeline look like? Are you on the right track to meeting your sales targets? If not, which leads are more likely to close that you can prioritise?
CRM data, when used effectively, can help you answer all these questions. Without this, you are just working through spreadsheets and relying on guesswork to achieve your goals.
With Sales Forecasting in Dynamics 365, you can see a real-time view of your sales pipeline and projections across territory, products and salespersons.
Move deals across stages such as "best case" or "lost" based on your level of confidence in closing them.
Or use AI models to predict future revenue based on historical performance and the current sales pipeline.
Managers can then use this information to set realistic targets, identify pipeline risks, reallocate resources, and modify sales strategies.
So what if you are at risk of falling short of your sales target? How do you decide which lead is more likely to convert?
With predictive lead scoring in Dynamics 365 Sales, AI monitors key lead attributes, buyer signals and historical data to give you a value that indicates how likely a lead is to convert.
These scores are determined based on the buyer industry, the budget amount, metrics tracked during a customer call or an email that indicates a strong intent and more. This helps sellers prioritise their efforts and focus on the most promising leads to increase their chances of closing deals.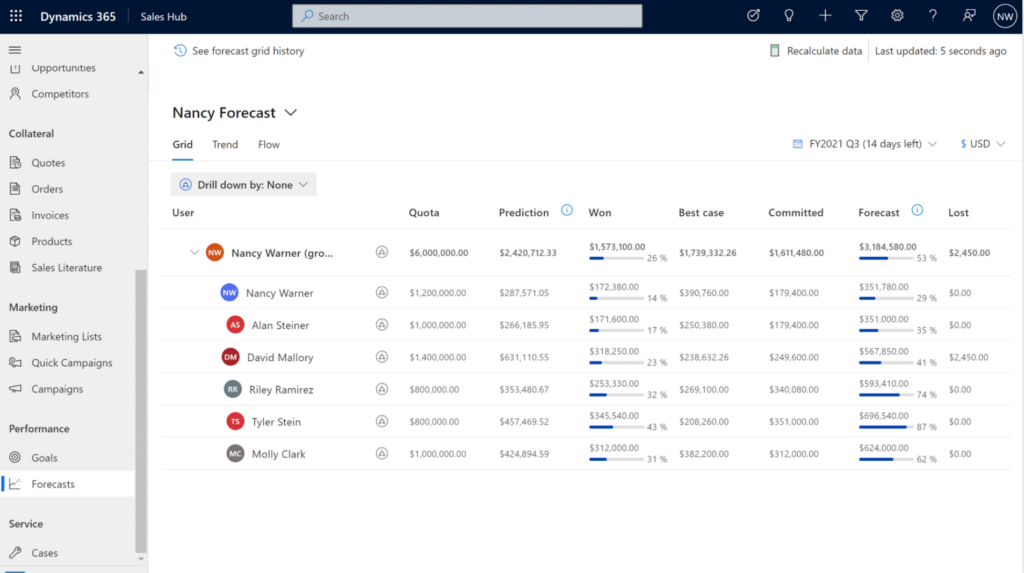 4) Cross-functional collaboration
A salesperson usually goes back and forth between MS Teams, Outlook and CRM to get into calls, send emails, share contacts with colleagues and access customer information. They can easily lose productivity by switching between these applications multiple times daily.
And if these different systems aren't integrated properly, they can end up duplicating their efforts across multiple platforms. Collaborating with colleagues is an important part of a seller's job, and a CRM should make this easy for them.
That's where Dynamics 365 stands out. It's natively integrated with all the Microsoft apps you use daily, like Outlook and Teams. Embedded Teams chat capabilities within Dynamics 365 are a key area of investment which continues to evolve.
For example, easily start a new chat, access your existing Teams messages within the Dynamics 365 workspace and share CRM records without switching applications. Or gain contextual customer data stored in Dynamics during a Teams meeting without ever leaving the interface.
This way, you can minimise distractions to your flow of work, bring data into conversations, and collaborate with anyone across the organisation, all within Dynamics 365 or MS Teams.
Next Steps
CRM system is much more than a static database. It is a valuable tool, and when used correctly, it will increase sales productivity and drive better results. If siloed systems and manual data entry are holding you back from achieving your sales goals, Dynamics 365 could be just what you are looking for.
Contact us today to discuss your requirements and explore how ANS can help you evolve your sales processes using Dynamics.